Yesterday, I started the countown of my favorite 40 new release albums of 2013. Later, I continued the countdown. We're halfway there, and in this installment, we'll get from #20 on down to 11.
As with the other installments, you can click on the album artwork for a way to buy the album.
20)The Darcys — Warring
This is the third album from the Toronto indie rock band, and the three albums are supposed to be a trilogy. The first was the 2011 self-titled album that reminded me a bit of OK Computer. The second was the 2012 boldly interpreted tribute to Steely Dan's Aja. Both of those albums were given away as free downloads by the band and by their label — Arts & Crafts. They didn't give this new one away, and I'm having a hard time finding the thread between the three albums, but this is very good. I'm still reminded a little of OK Computer-era Radiohead. With strong doses of electro-indie rock, there's also a little jazz and a little soul. The songs are "big" and forceful with lots of really lovely, fragile moments. Bull in a china shop. I guess the common thread with those three albums is the big 1970-style production.

19) Veronica Falls — Waiting for Something to Happen
This is the second album by the indie pop/twee quartet from London. When this album came out, I guessed that it might end up in my top five of the year. As much as I love this album, it just got really crowded near the top. Their acclaimed first record was a bit dark and dreary. This one is much warmer and brighter. They're a more punk-rock version of Camera Obscura. The multi-part harmonies, the clever lyrics, the bounciness of it. It's impossible to be in a sour mood whilst listening to this album.

18)Lemuria — Distance is So Big
This is the third album from the Buffalo trio. Sometimes sugary indie-pop. Sometimes crunchy punk rawk. Lots of coed vocals with harmonies that don't always click. I'm reminded of a lot of things, but on more than one song, they remind me of That Dog.
This album and this band have some imperfections. That's one of the things that I really like about the album. They didn't airbrush the warts. Warts and all, it's a great album.

17)Dråpe —Canicular Days
This is the debut album by the dream pop/shoegaze five-piece from Oslo, Norway whose name is pronounced like "draw-puh". They preceded this album with a critically acclaimed EP and a couple of 7″ records, and they didn't disappoint with their long player. Over the past two years, I've gotten a lot of stuff in the mailbag that I would have never known about otherwise. This is one of my favorites from that lot. They're on a great Norwegian boutique label called Riot Factory, and a sub-label there called Sad Songs For Happy People.
This is sun-drenched dream pop at its best. Slowdive-y in some parts, Cocteaus-y in others.

16) Houses — A Quiet Darkness
This is the second album by the ambient electronic/dream pop duo. It's a concept album about a couple who find themselves separated after a nuclear disaster. They make several attempts to reunite at designated points along California's Highway 10. Abandoned houses, and places like that. All of their attempts fail, and in the end the both die. It's a depressing story, but it's a beautiful album. I saw this band at Hopscotch, and although they had a very long delay while they tried to get their gear to work, they still put on a good set. You really need to listen to this album from front to back uninterrupted. I love their warm electronics and their marvelous vocal harmonies.

15) Waxahatchee — Cerulean Salt
This is the second album by indie-folk/rock singer/songwriter Katie Crutchfield. Back in her home state of Alabama, she was in a punk band with her twin sister Allison. Allison is now in Swearin' and Katie is Waxahatchee. They both played at Hopscotch, and although I planned to see Waxahatchee, the delay at the Houses set meant that I was 45 minutes behind schedule and I was only able to catch one song of the Waxahatchee set. Still, very good.
While her first album is about a nasty breakup that she went through, this album is a little less personal in nature. Because of her vocal style, I'm reminded a lot of the Vancouver indie duo Drawn Ship. Even the slower songs are energetic, and I love it

14)Wax Idols —Discipline and Desire
This is the second album by the Oakland post-punk/goth quartet. The first album was pretty much a solo effort from frontwoman Hether Fortune. That one is more oriented towards pop-punk, and it doesn't really tickle my fancy very much. She's got a full band, and a lot more depth on this magnificent but gloomy album.
The thick bass lines, the heavy tone, the moistened gloomy tone of it all seems like it should totally be from London in the late 1970s instead of Oakland. It's easy to pick out reference points like Joy Division and Siouxie and The Banshees. Even the early stuff by The Cure.
I missed my chance to see Wax Idols back in the spring. They played near here and I had a ticket, but on the night of the show, I just wasn't feeling up to it. Hopefully, they'll be back around soon.
Don't forget… I've mentioned it a bunch of times, but Slumberland Records is having a huge sale on their entire music catalog, so now's the perfect time to stock up on this and other fantastic SLR records going all the way back to 1989.

13) Panda Riot — Northern Automatic Music
Panda Riot formed in Philadelphia back in 2007 or 2008 when the founding members were working together making a film about dolphins and porpoises. A couple of lineup changes later, they're in Chicago, and they released their second album Northern Automatic Music. There's a lot of drum machine and other synthetics, and they do come off as a bit dance-y at times, but it's really just atmospheric shoegaze-y dream pop with a bit of a beat. The album is meant to "evoke nighttime, UFOs, and pyramids in the sky". It's pretty clear from this batch of songs that they're really into bands like Curve and My Bloody Valentine.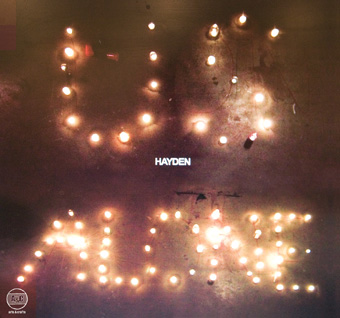 12)Hayden — Us Alone
This is the seventh album for the Toronto indie-folk icon. As a rule, I'm a big Hayden fan, but I wasn't especially keen on the albums that he released in 2008 and 2009. I was pleasantly surprised by Us Alone, as it got back to what I really like about Hayden. His songs are dark and sad and beautiful. The two albums that I didn't care for had different production values and seemed really polished. and it felt wrong. With this one, he made a deliberate attempt to make the record sound like a band playing in a room. He played all the instruments himself, just like he did on his older albums. More intimate. More real.
I really like this album, and one of the highlights of it is the song "Blurry Nights", on which the terrific Lou Canon provides guest vocals. It's a bit creepy because it's a song about having a dirty affair, and Lou Canon happens to be his sister-in-law. Here's another song about having a secret affair

11)Bleeding Rainbow — Yeah Right
This Philadelphia noise-pop band used to be called Reading Rainbow until Carrie Brownstein told them that their name sucked. Bleeding Rainbow is a much more appropriate name for what they're doing. Huge, fuzzy, noisy songs delivered in a very delicate way. I had never heard of them until I saw them open for A Place To Bury Strangers last autumn. They played most of the songs from the album, which didn't get released until about five weeks after that show. Female vocals, lots of feedback, pedal stomping, and good old-fashioned noise. Wave after wave of sheer noise. Everything that I like in a noise-pop band. It was one of the first records that I got in 2013, and I knew than that it would end up with a good spot on my year-end list.

There are just ten albums left in the countdown. Stay tuned for those.